We believe there is a home for every cat
and a cat for every home.
Helping cats find
a home at last
The Home at Last mission is to rescue cats from substandard living conditions
and give them better lives. We will provide medical care, emotional support,
and a loving environment while preparing them to find their forever homes.
Give a lifesaving gift today
Want to be part of the solution?
Help us save a life. We desperately need fosters.
Do you have a safe, quiet room (even a bathroom)?
We provide resources and support.
ASH: F/S 5 mo. Bonded to Sage.
Ash likes lots of cuddles. She is not afraid to let you know when she wants cuddles and will meow at you until you oblige her need for them. Ash is very playful and has never met a toy she doesn't like. She loves to play fight with all her siblings. Ash's best friend is her sister Sage and they MUST be adopted together.
SAGE: F/S 5 mo. Bonded to Ash.
Sage likes to cuddle and play! She likes to make biscuits on her siblings and give them kisses. She doesn't have a favorite toy – she just likes to play with everything. Sage is full of the zoomies! Sage is a petite girl, but that doesn't stop her from wrestling with her siblings when they try to steal her treats! Sage is best friends with her sister Ash and they MUST be adopted together.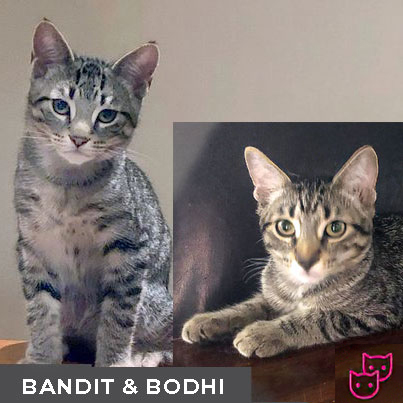 BANDIT: M/N 7 mo. Bonded to Bodhi.
Bandit loves to cuddle and loves humans! He is very affectionate and will seek you out. He loves to play with his siblings and toys. He is a master purr machine. He loves his turbo scratcher and wand toys. Bandit is good with other cats, dogs and kids.
BODHI: F/S 7 mo. Bonded to Bandit.
Bodhi is a great cuddler. She loves human affection. Bodhi is not quite as confident as Bandit but she loves to play and enjoys all toys. She loves wand toys and jumps as high as she can to catch them. She is good with other cats, dogs and kids.
@2020 Home at Last Rescue – Charitable Registration No. BN 739993335RR0001