ADOPTION CENTRE VOLUNTEERS NEEDED!
THE CATS AND KITTENS NEED YOU!
We need volunteers for our adoption centre at
PetSmart Etobicoke
!
We need help for all shifts per day, weekdays or weekends too!
The morning shift cleans, feeds, gives water and does the litter boxes as well as gives the kitties lots of attention. The afternoon and evening shift tidies up and cuddles and plays, plays, plays!
If you are worried about committing every week, we would love both types… the "once weekly (same shift)" or the "fill-in"!
Etobicoke PetSmart is right near Sherway Gardens so right off the QEW/427 depending on what direction you are coming from.
Kids welcome (but must be accompanied by an adult), friends, partners, family. Grab a Timmies from out front and relax with cats!
The adoption centre will be very busy soon with lots of kittens, so there will be lots of cuddle time!
Home at Last Rescue Marketplace
on Facebook
We have a new buy and sell group on Facebook: Home at Last Rescue Marketplace, in support of Home at Last Rescue!
Our Buy and Sell is a place where members can sell items they'd like to donate and all the funds are donated to HALR.
We accept new and gently used, hand made or vintage items.
Please post your item under "sell something", once the item is sold, please put SPPU (sold pending pick up) and once payment has been verified by HALR, arrangements can be made for pick up.
Please post the city you are in as well to make it easier.
Once the item has been picked up, please delete your post to keep the page clean.
If you wish to purchase the item please comment under the photo. If there is multiple interest, then first come first served. Please post "next" if you wish to be considered next.
Please read the group rules before posting. 

Payments must be made by e-transfer to fundraise@homeatlastrescue.ca within 24 hours or the item will move to the next person.
The kitties thank you for your support and generosity!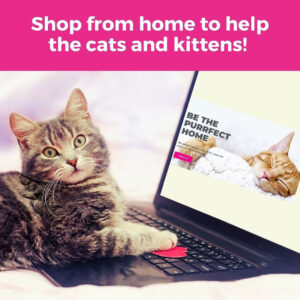 AMAZON WISH LIST!
Shopping with our Amazon Wish List is fast and easy.
Select one or more items to add to your Amazon cart. When you reach "Choose Shipping Address", select Home at Last Rescue's Registry Address and the order will be delivered directly to the Rescue.
We have a range of different priced needs. Every single item is much appreciated. If you like, leave your name and email address in the gift card note box so we can say thank you.
WE HAVE A TEAM ON FUNDSCRIP
TO HELP US RAISE MONEY FOR OUR RESCUE CATS AND KITTENS.
The Home at Last Rescue team code is Z34HES.
Pay for everyday expenses and gift with gift cards brought from FundScrip. Each purchase automatically includes a donation to the campaign. Cards from over 230 leading reatailers. 
WE HAVE A TEAM ON FLIPGIVE
TO HELP US RAISE MONEY FOR OUR RESCUE CATS AND KITTENS.
The Home at Last Rescue team code is GSH5DV.
Purchase gift cards from Amazon, Walmart, HomeDepot, Wayfair, Esso, Loblaws and so many more. We get a small commission every time you shop online or purchase gift cards through FlipGive.